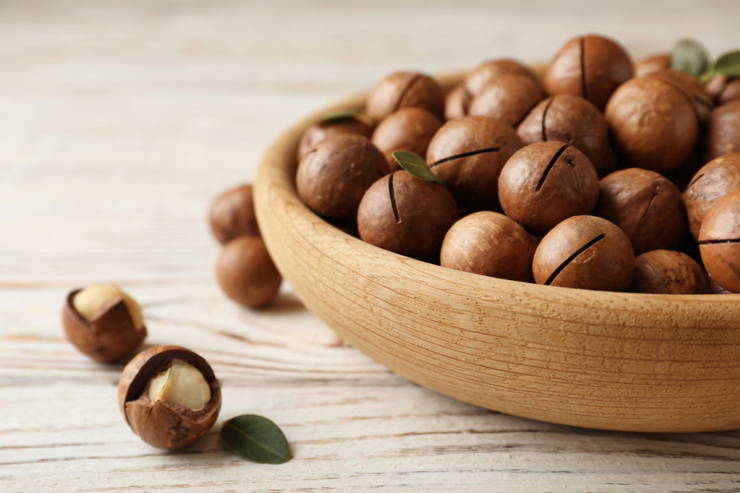 Macadamia- the tasty round nut! It is such a crowd-pleaser to those who love nuts. It is described to have a buttery flavour, and is considered as one the finest nut in the word! The reason why it is such a popular choice among people is definitely because of its superb health benefits!
Top benefits of macadamia nuts
1. Lower heart diseases
Can a food that is 75% fat good for you? (WHAT?!) The answer is a big yes! Just like any other nuts, macadamia is high in good fats, it is even claimed as the highest fat containing nut, which is why it is healthy for you. Macadamia is reported to have the ability to lower bad cholesterol (LDL). In addition to that, consuming macadamia nuts on a regular basis may lower the risk of having heart failure or diseases, keeping your health on track.
2. Protects the brain
Macadamia nuts contain vitamin E also known as tocotrienols. Believe it or not, this amazing compound can protect the brain cells and may play a role in the development of Alzheimer's disease and Parkinson's disease. Now go and eat some macadamias!
3. Protect the bones
Other than that, macadamia can protect your bones and teeth, keeping them strong and healthy! Minerals such as phosphorus, manganese and magnesium aids in bones and teeth mineralization. Needless to say, our bones structures deteriorate with age. With the help of minerals found in macadamia, your bone structures can be regenerated in no time!
4. Stave off hunger
We bet you didn't know macadamia nuts are high in fiber, protein and good fats. With these combined, it is sufficient to make a person feel full! The good fat takes longest to digest, while protein and fiber help prevent large blood sugar changes that can make a person feel hungry. Hence, satiety is increased and you will eat less!
Most importantly, macadamia nuts are inevitably SO delicious!
*one serving of macadamia nuts contains around 12 nuts
Now, get familiar with these macadamia recipes because once you have tried our macadamia nuts, you can't stop eating them!
Chocolate coated Macadamia Balls
Recipe credits to https://www.foodnetwork.com/recipes/alton-brown/chocolate-coconut-balls-recipe-1913124
Macadamia Nuts Mini Loaves
Recipe credits to https://www.tasteofhome.com/recipes/macadamia-nut-mini-loaves/
White Chocolate Macadamia Cookies
Recipe credits to https://www.livewellbakeoften.com/soft-chewy-white-chocolate-macadamia-nut-cookies/
Of course, if you don't have the time for these fancy recipes, macadamia tastes just as wonderful just as it is. You definitely should try some macadamias today and you won't regret your wise choice!
However....
Do take note that people with nut allergies should also avoid macadamias. Also, because of its high content of phosphorus, people with kidney disease should also stay away from macadamias. Other than that, you're good to go and grab some macadamias!
H A P P Y E A T I N G!
Information credits to:
https://www.medicalnewstoday.com/articles/324233.php
https://www.naturalfoodseries.com/15-benefits-uses-macadamia-nuts/
https://www.tasteofhome.com/recipes/macadamia-nut-mini-loaves/